Swim with the Dolphins - Dolphins in Motion
Swim with the dolphins in their natural habitat - and take a look at those pictures in the meanwhile. Looking at dolphins in motion is a great way to start moving towards your balanced work dream.

Here are pictures of dolphins in motion, from the dolphin pictures album. Take a look at dolphins for relaxation. Here is a group consisting of 4 dolphins swimming in a reservoir somewhere in Japan. Also take a look at my swimming with dolphins guide and in my swim with dolphins locations guide.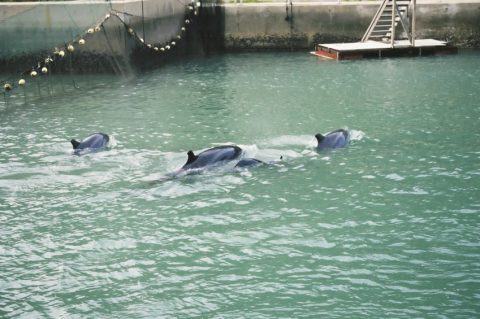 One smiling dolphin, shining on the sun, creating waves.

Fully Experience the joy of dolphins
Here is more information on bottlenose.
Take a look at hitech-dolphin's recommended sources of information on bottlenose, generall dolphin information, amazing dolphin art, pictures of baby dolphins, big dolphin posters, free dolphin screen savers, exiting dolphin pictures, and beautiful dolphin clip art and cartoons.