Dolphin Wallpaper Guide
How to experience the joy of dolphins on your daily life? A free dolphin wallpaper is a good start. Selected sources and recommended usage tips.
Dolphin wallpaper selection tips
A dolphin wallpaper is a great source of inspiration for your computer desktop. Use them as a source of inspiration to regain simple joy as you start your day.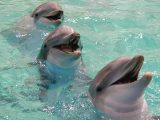 A good wallpaper have the quality of calmness and flowing, which help you to relax your thoughts and smile with joy whenever the your computer desktop is displayed.
Below are my recommended dolphin wallpaper sources. The photos are usually free for personal, non-profit use.
Real dolphin wallpapers
While a dolphin background is great, you can only view it while you are away from your computer. This means that it is usually viewed by others, not by you.
Have you considered a real dolphin poster?
Take a look at my selected dolphin posters and dolphin art prints - whenever you put them, they are always present. No electricity is needed - zero EMF emissions are part of the deal.
Dolphin posters and art prints are there when your eyes need to take some rest. They are present when the monitor is closed and when you are working with other application.
Free dolphin wallpapers
Here are my recommended sources for free dolphin wallpapers. Simply open the desired photo in your browser, then select on the 'save as wallpaper' option.
Amazing dolphin wall paper pictures from a Swimming with Dolphins camp.
Original dolphin wallpaper art; from a New Zealand artist.
Dolphin wall paper pictures with poetry - by Martisha, from SongOfHome.com.
Davids Whale and dolphin watch - Great Dolphin background pictures, Dolphin sounds, and links. Reference photos for artists.
Fully experience the joy of dolphins
Swimming with wild dolphins | Dolphin Swiming Guide
Welcome to the experience of a lifetime - swimming with wild dolphins. What are the best places? What to take? And how to prepare? Here is your guide.
Take a look at hitech-dolphin's recommended sources of pictures of dolphins, free dolphin screen savers, big dolphin posters, amazing dolphin art and beautiful dolphin clip art and cartoons.
In affiliation with allposters.com, the largest poster store in the world, here is my preferred selection of dolphin wallpaper art prints and posters: