Dolphin Posters Guide
How to experience the joy of dolphins on your daily life? Dolphin posters are a constant source of inspiration. Here are selected posters and recommended usage tips.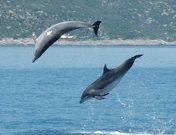 Why dolphins
Dolphins are social animals, full of joy and inspiration. Together with the whales, dolphins are the most intellegent sea animals. The quality of dolphins is the quality of water, of emotional flow, of communication in different levels, of sponteneity, of telephatic communication.
Swimming with dolphins is a lifetime experience. The challenge is to bring this experience of joy into our everyday life.
Dolphin poster selection tips
Dolphin posters and art prints are there when your eyes need to take some rest, when you need some inspiration.
Hang inspirational posters of dolphins on your office or at home, to enrich your working environment, to enhance your liveliness and emotional flow, and to regain simple joy.
When selecting your posters, look for joy! A good poster will last for a long time. Look at the dynamics of motion.
Consider if you want a real-life photo dolphin posters (such as the ones presented below) or inspirational dolphin art prints.
Poster sizes vary - some posters fit a whole wall - so they are realy 'wallpapers'.
Match the brightness and color of the dolphin poster to the intended room.
Poster framing is also important - aqua-color framing create a different feeling then a golden framing.
Selected Dolphin Posters
In affiliation with allposters.com, the largest poster store in the world, here is my preferred selection of dolphin posters:
Fully experience the joy of dolphins
Take a look at hitech-dolphin's recommended sources of pictures of dolphins, free dolphin wallpapers and dolphin screen savers, amazing dolphin art and beautiful dolphin clip art and cartoons.