Effective Career Education
Looking for effective career education, you may ask:
What is the best way to learn?
Which subjects are really important?
And how to keep my knowledge relevant?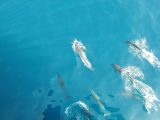 Looking for career education, we observe that our society has become knowledge-oriented. Yet when our knowledge is not in order, the more we have of it - the larger our confusion.
Want to learn a new subject? Want to acquire a new skill?
Hitech-Dolphins find it best to think of knowledge as the wide ocean around. The best way to learn it is to swim in it with joy, dive in it with happiness.
Looking for career education, the lessons are clear:
Dolphins love to have company. And learners too. It's best to learn with others.
It's best to balance career education by actual work. Knowledge learned is called 'Passive Knowledge'. When used, this knowledge becomes 'Active Knowledge'. The new knowledge then becomes part of your practical experience.
Learn while working. This is the easiest time to decide which skills are actually relevant to the task at hand.
Don't try to over-learn: As we go forward in the ocean and learn new things, we forget the old ones. Instead, balance the knowledge flow in your life. Learn to give knowledge, transforms your knowledge from a passive to an active state. Learning to be in a positive learning-flow is like learning to be in a positive cash flow. If you learn without doing, your "learning-flow" is out of balance.
To reach your target, you must move in a clear direction. Let your intuition decide, and communicate with other people around.
The lighter the weight you carry, the more flexibly you move. Less is more!
Recommended Sites