Dolphin Art Guide
Dolphin Art is a great source of inspiration. Use it to enrich your working environment, to enhance your liveliness and emotional flow, and to regain simple joy. Selected sources and tips.
Who are the dolphins
Dolphins are social animals, full of joy and inspiration. Together with the whales, dolphins are the most intelligent sea animals. The quality of dolphins is the quality of water, of emotional flow, of communication in different levels, of spontaneity, of telepathic communication.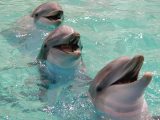 Dolphins are one of the most beautiful animals on the ocean. Those mammals are great teachers, teaching us to regain our playfullness and joy. Smaller then whales, swimming together with fishes, or near the corals - they have a prescense of their own. Looking at dolphin art has great energetic qualities.
Swimming with dolphins is a lifetime experience. The challenge is to bring this experience of joy into our everyday life.
Which types of dolphin art is available?
Original dolphin art can be found, for example, at Martin Allen's gallery. Martin's original painting reconstructs the sense of whales and dolphins in their natural environment.
If you want to feel the energy of the dolphin prescense, dolphin prints or dolphin picture posters are preferrable to digital pictures. They are always available, even if you are in front of your computer. Printed art lets your eyes relax. And no electro-stress is involved.
Dolphin prints allow you to get original art for a bargain.
dolphin posters are a great alternative, with real-life photos quaity.
A free dolphin screen-saver is a great way to enhance your working environment, however a software installation is required
A free dolphin wallpaper is somewhat easier on your computer resources, and you can print it, hoever it is only available when your computer is active and not occupied with other tasks.
Dolphin art T-shirts can be found at Royce B. McClure's site.
Selected dolphin art prints
In association with allposters.com - The World's Largest Poster and Print Store - here is my preferred selection of prints:
Dolphin art directories
ArtPromote.com Dolphin Art Gallery is part of the artpromote network which features thousands of artist, gallery, art print, and poster sites from around the world plus an art marketing network. The Dolphin art section of the ArtPromote network contains a good selection of artists.
Fully Experience the joy of dolphins
Take a look at hitech-dolphin's recommended sources of big dolphin posters, dolphin information, free dolphin screen savers, exiting dolphin pictures, and beautiful dolphin clip art and cartoons.