Swimming with Dolphins in Mexico
Consider swimming with dolphins in Mexico? Mexican dolphin swim is generally cheaper then in the United States, and water are warmer.
Which dolphin swim locations are the most popular?

A flipping dolphin in Cancun, Mexico
Popular locations for swimming with dolphins in mexico include Acapulco, Cancun, the Cozumel Island, Puerto Vallarta and Cabo San Lucas Riviera (Cabo Villas and map) and more.
Via Delphin at Maya Riviera [at Cancun] is one of the new, more invested places.
Also take a look at my full list of swim with dolphins locations - Florida, Hawaii, California, the Caribbean, and More.
Aim for the wild dolphin swims, tours and adventures - they are the most ecological dolphin swim types. Don't be fooled by dolphin hotels or dolphin swimming pools - blue chlorine might be dangerous for both captured dolphins and people.
Dolphin Swim Guide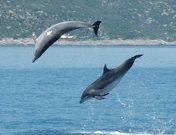 A dolphin swim is the experience of a lifetime. Read my full guide for swimming with dolphins to learn how to get the most of this rewarding experience.
Also take a look at hitech-dolphin's recommended sources of inspirational pictures of dolphins, dolphin information, free dolphin screen savers, amazing dolphin art and beautiful dolphin clip art and cartoons.