Swimming with Dolphins in Florida
Consider swimming with dolphins in Florida? For Swimming with dolphins, Florida is the most popular destination for americans. Reasons for FL being a popular place include the warm weather, the natural, warm lagoons, the long season and the easy transportation. It's close for most americans to travel and travel is relatively cheap.
The most known place for swimming with dolphins in Florida is the Florida keys (key west, key largo, and other islands in the south of Florida). Other top Places include Orlando (Sea World, Discovery Cove, ... ), , Miami beach and Fort Lauderdale areas.
Also take a look at my full list of swim with dolphins locations - Hawaii, California, the Caribbean, Mexico, and More.
Aim for the wild dolphin swims, tours and adventures - they are the most ecological dolphin swim types. Don't be fooled by dolphin hotels or dolphin swimming pools - blue chlorine might be dangerous for both captured dolphins and people.
Dolphin Swim Guide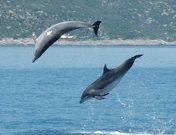 A dolphin swim is the experience of a lifetime. Read my full guide for swimming with dolphins to learn how to get the most of this rewarding experience.
Also take a look at hitech-dolphin's recommended sources of inspirational pictures of dolphins, dolphin information, free dolphin screen savers, amazing dolphin art and beautiful dolphin clip art and cartoons.