Caribbean Dolphin Swim
Consider caribbean dolphin swim? Unique animals, wild beaches, beautiful coral reefs with an array of colorful tropical fish, and warm water all year around.
For most Americans, Caribbiean Dolphin Swim is Farther then Florida, but closer then Hawaii. It's less exotic then Hawaii, but generally cheaper.

Scuba Diving with Dolphins - Grand Bahama Beach
In the Caribian you will also find a lot of dolphin cruises, diving, and other dolphin swimming adventures. Caribbean dolphin swim locations include Anguilla (A pristine island, Just a 30 minutes boat ride from St Martin), Bermuda, Dominican Republic (Punta Cana), Jamaica, Bahamas (Dolphin Encounters,The Dream Team expeditions, ...) and Cuba.
Also take a look at my full list of swim with dolphins locations - Florida, Hawaii, California, Mexico, and More.
Aim for the wild dolphin swims, tours and adventures - they are the most ecological dolphin swim types. Don't be fooled by dolphin hotels or dolphin swimming pools - blue chlorine might be dangerous for both captured dolphins and people.
Dolphin Swim Guide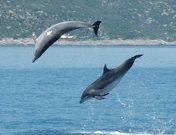 A dolphin swim is the experience of a lifetime. Read my full guide for swimming with dolphins to learn how to get the most of this rewarding experience.
Also take a look at hitech-dolphin's recommended sources of inspirational pictures of dolphins, dolphin information, free dolphin screen savers, amazing dolphin art and beautiful dolphin clip art and cartoons.