Dolphin Swimming Preparations
To regain simple joy in a hitech world, swiming with dolphins is one of the best way. A total, rewarding experience which might be the the experience of a lifetime.
How to practice before your dolphin swimming vacation?

School of Dolphins swimming on New Zealand, during the summer of January 2004
Dolphin swimming adventures are available for all age groups, childeren and adults alike.
You do not have to be an exceptionally strong swimmer. You need to be comfortable in the water. Practice swimming and snorkeling before coming to the trip.
Choose an optimal dolphin swimming season, with warm water, will make life much more easier for beginners. Warm weather makes it easier to stay longer periods at water. Hence, you will want to find out about the water temperature before deciding on your destination.
Best season depends on the chosen place. While northern places are best at summer, tropical places like hawaii are open all year round.
Dolphin Swim Guide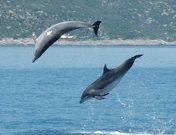 A dolphin swim is the experience of a lifetime. Go to the dolphin swimming preparation tips to learn how to get the most of this rewarding experience. Take a look at the swim with dolphins locations guide to learn about the best locations.
Also take a look at hitech-dolphin's recommended sources of inspirational pictures of dolphins, dolphin information, free dolphin screen savers, amazing dolphin art and beautiful dolphin clip art and cartoons.