Dolphin Swiming and Diving - What to Take
To regain simple joy in a hitech world, swiming with dolphins is one of the best way. A total, rewarding experience which might be the the experience of a lifetime. But what how to prepare? Take a look at my swim with dolphins locations guide. What to take for your dolphin swimming and diving vacation? To maximize your experience, here is your checklist.

Wild Dolphins swimming and Jumping off the bow of a sailboat
Dolphin Swimming and Diving Checklist
You need a properly fitting mask, snorkel, and fins.
Sunscreens, swim wear, hat are all recommended.
A water resistent digital camera or a camcorder would help you keep memories for a long time.
In big places, the diving equipment can usually be rented at place. But buying your own quality equipment is usually cheaper on the long-range.
Other things depend on your holiday destination. The less you take, the lighter your travel.
Dolphin Swim Guide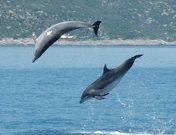 A dolphin swim is the experience of a lifetime. Go to the dolphin swimming preparation tips to learn how to get the most of this rewarding experience. Take a look at the swim with dolphins guide to learn about the best locations.
Also take a look at hitech-dolphin's recommended sources of inspirational pictures of dolphins, dolphin information, free dolphin screen savers, amazing dolphin art and beautiful dolphin clip art and cartoons.