Dolphin Swim Resources
Planning a dolphin swim? To regain simple joy in a hitech world, swimming with dolphins is one of the best way. A total, rewarding experience which might be the the experience of a lifetime. Here are my recommended dolphin swim resources:

Feeding a swimming dolphin, jumping with Joy
Selected dolphin swim resources
The divine dolphin - Wild dolphin and whale encounters combined with rainforest tours in amazing Costa Rica.
Swimming with Dolphins in Hawaii OneLoveOneSpirit.com offers a great selection of wild dolphin swims in Kona (Big Island) and on Oahu.
Bimini Dolphin Expeditions offers a one week live aboard - ashore, eco oriented wild dolphin swim in the Bahamas. Singles, couples, groups and family are welcome for the experience of a lifetime.
Regina optimist dolphin swim club - dolphin tips.
Dolphin swim tourist programs and travel packages.
Talk about dolphin swim at google groups, with lots of dolphin store specials.
Directory of dive services around the world
Dolphin Swim Guide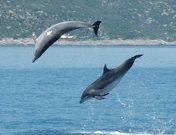 A dolphin swim is the experience of a lifetime. Go to the dolphin swimming preparation tips to learn how to get the most of this rewarding experience. Take a look at the swim with dolphins guide to learn about the best locations.
Also take a look at hitech-dolphin's recommended sources of inspirational pictures of dolphins, dolphin information, free dolphin screen savers, amazing dolphin art and beautiful dolphin clip art and cartoons.