Dolphin Swim Directories
Consider dolphin swim directories? To regain simple joy in a hitech world, swiming with dolphins is one of the best way. A total, rewarding experience which might be the the experience of a lifetime. Which are the best directories? Here is your list.

Swimming with Dolphins in Kaikoura, New Zealand
Best Directories for Dolphin Swims
Besides the swim with dolphins directory on this site, One of the best dolphin swim directories is the Key West Dolphin Watch list. It is the largest list of North America dolphin swim places you can find. Places are sorted by destination - Hawaii , the Bahamas, Florida, Virginia, and more. Captain Seaweed arranges dolphin swim tours to the florida Key West waters where you Encounter dolphins in their own habitat! <! end CaptSeaweed.Com link code>
Take a look at Google's DMOZ dolphin swimming directory for a nice list of dolphin swimming resources.
Dolphin Swim Guide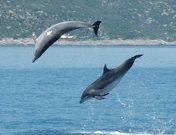 A dolphin swim is the experience of a lifetime. Go to the dolphin swimming preparation tips to learn how to get the most of this rewarding experience. Take a look at the swim with dolphins locations guide to learn about the best locations.
Also take a look at hitech-dolphin's recommended sources of inspirational pictures of dolphins, dolphin information, free dolphin screen savers, amazing dolphin art and beautiful dolphin clip art and cartoons.