Dolphin Swim Books
Why dolphin swim books? To regain simple joy in a hitech world, swimming with dolphins is one of the best way. A total, rewarding experience which might be the the experience of a lifetime. But how to prepare for your dolphin swimming vacation? To maximize your experience, it's strongly recommended to read books about dolphin swimming and about dolphins in general (below). Where to swim? Take a look at my swim with dolphins locations guide.
Dolphin Swim Books
Dolphinheart's How to swim with dolphins book is an essential guide.
Listening to Wild Dolphins: Learning Their Secrets for Living With Joy
"Cetaceans are conveyors of ancient wisdom and planetary transformational energies. They expedite deep growth and healing on many levels, accelerating the telepathic connection of all life on Earth and beyond. The whales are wise, loving evolutionary guides. The dolphins are messengers of the whales. In their wisdom, love, and playfulness these wonderful beings invite us to come and receive powerful heart and soul activations. These experiences will change your life in ways unimagined."
Penelope Smith
An internationally acclaimed Animal Communication Specialist
Penelope recommends you read her 'animal talk' book before joining taking here wild dolphin swim expedition. This will ease your experience.
This book speaks to the power of JOY, and will give you information on dolphins on all levels. Bobbie Sandoz's story unfolds in three phases. First, she befriends the dolphins and observes how they embody the characteristics of the higher self: kindness, joy, harmony, wisdom, clarity, and mystery. Second, she notices that the dolphins are communicating telepathically with her. Finally, she transfers to the human sphere what she has learned - that adopting the spirit of the dolphins can lead to joy. This book is excellent material, and belongs on the shelf of any dolphin lover.
Dolphin Chronicles: A Fascinating, Moving Tale of One Woman's Quest to Understand-And Communicate With-The Sea's Most Mysterious Creatures.
A personal story of the scientist Carol Howard provides an intimate, moving account of one woman's attempt to unravel the mysteries of the dolphin-one of the sea's most fascinating and enigmatic creatures.
Dolphin Swim Guide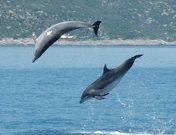 A dolphin swim is the experience of a lifetime. Go to the dolphin swimming preparation tips to learn how to get the most of this rewarding experience. Take a look at the swim with dolphins locations guide to learn about the best locations.
Also take a look at hitech-dolphin's recommended sources of inspirational pictures of dolphins, dolphin information, free dolphin screen savers, amazing dolphin art and beautiful dolphin clip art and cartoons.